When EnterpriseOne start sometimes there is an error:
The source was not found, but some or all event logs could not be searched. To create the sourceq you need permission to read all event logs to make sure that the new source name is unique.
Inaccessible logs: Security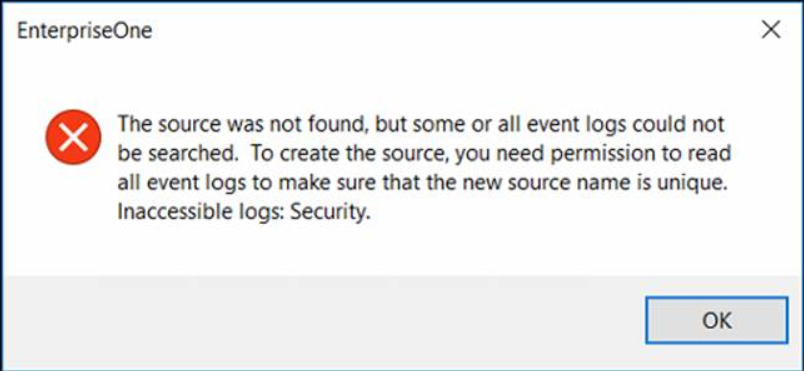 The cause of error is a lack of rights for user that start EnterpriseOne to the Security log in Registry
It is necessary to grant rights to the correspondent key in Registry:
Log on to the computer as an administrator.
Click Start, click Run, type regedit in the Open box, and then click OK. The Registry Editor window appears.
Locate the following registry subkey:

HKEY_LOCAL_MACHINE\SYSTEM\CurrentControlSet\Services\Eventlog
HKEY_LOCAL_MACHINE\SYSTEM\CurrentControlSet\Services\EventLog\Security

Right-click Eventlog, and then click Permissions. The Permissions for Eventlog dialog box appears.
Click Add, add the user account or group that you want and set the following permissions: "Full Control"
Note: This error should not appear if you are on version 2020 or higher.